TAM 7 Home | Registration | Speakers | Schedule | Hotel | Workshops | Events | Contact Us
The Amaz!ng Meeting 7 Speakers
TAM 7 KEYNOTE

SPEAKER

- Bill Prady
is a television writer and producer who has worked on American sitcoms and variety programs, including
Married With Children
,
Dream On
,
Star Trek: Voyager
,
Dharma & Greg
, and
The Gilmore Girls
. He began his writing career working for Jim Henson's Muppets. He wrote the Disney Theme Park attractions Jim Henson's Muppet*Vision 3D and Honey, I Shrunk the Audience. He is currently the Executive Producer and co-creator of the CBS sitcom
The Big Bang Theory
. In 2003, he was a candidate for the office of Governor of California. He is a graduate of the Cranbrook Schools in Bloomfield Hills, Michigan. In 1991, Prady was nominated for an Emmy award for co-writing the posthumous tribute to Jim Henson entitled "The Muppets Celebrate Jim Henson
."
In his keynote speech for TAM 7, Bill will talk about science, geekery, and how The Big Bang Theory is once again making it cool to be a nerd.
James Randi
has an international reputation as a magician and escape artist, but today he is best known as the world's most tireless investigator and demystifier of paranormal and pseudoscientific claims. Randi has pursued "psychic" spoonbenders, exposed the dirty tricks of faith healers, investigated homeopathic water "with a memory," and generally been a thorn in the sides of those who try to pull the wool over the public's eyes in the name of the supernatural.
He has received numerous awards and recognitions, including a Fellowship from the John D. and Catherine T. MacArthur Foundation in 1986.
On October 19, 1993, the PBS-TV NOVA program broadcast a one-hour special dealing with Randi's life work, particularly with his investigations of Uri Geller and various occult and healing claims being made by scientists in Russia.
He is the author of numerous books, including The Truth About Uri Geller, The Faith Healers, Flim-Flam!, and An Encyclopedia of Claims, Frauds, and Hoaxes of the Occult and Supernatural. His lectures and television appearances have delighted - and vexed - audiences around the world.
In 1996, the James Randi Education Foundation was established to further Randi's work. Randi's long-standing challenge to psychics now stands as a $1,000,000 prize administered by the Foundation. It remains unclaimed.
Phil Plait
is an astronomer, author, blogger, and not-so-incidentally President of the JREF. His new book,
Death from the Skies!
, is about all the ways cosmic catastrophes can wipe out life on Earth. His
Bad Astronomy blog
is now hosted by Discover Magazine and was recently chosen as one of the
Top 25 Blogs of 2009
by Time Magazine. He has attended every single TAM and has no plans to stop any time soon.
Photo courtesy Andy Ihnatko
.
Joseph A. Albietz III, MD
is an Assistant Professor of Pediatrics at the University of Colorado, Denver, specializing in Pediatric Critical Care. He is fascinated by reality in general (especially when it has a strong geek factor), and offended by any attempt to distort, obfuscate, deny, or exploit our attempts to understand it. His primary skeptical interest is protecting children from medical quackery, and preventing it from infiltrating our academic centers and medical schools.
Stephen Bauer
is the Portland attorney who administered the estate of magician/inventor Jerry Andrus. With permission of George Andrus (Jerry's older brother), he managed the laborious step-by-step decompilation of Jerry's famous 118-year-old Victorian household.
Located in Albany (Oregon) and popularly known as the "Castle of Chaos," Jerry's house and its several outbuildings sheltered an 80-year collection of personal property. From the attic to its crawlspace, every cubic foot of the Castle was crammed with staggering arrays of magic paraphernalia, optical illusions, inventions, and surprises large and small. With invaluable assistance from Jerry's friends and neighbors, Steve worked twelve hours a day, "storming the Castle" a room at a time in an effort to uncover and preserve its many treasures. The entire project took six months to complete.
Lawyers traditionally treat their clients' affairs with the utmost confidence, but George Andrus has given his enthusiastic permission for Steve to take the stage at TAM7 and share the Castle's secrets. He'll discuss the life and times of Jerry Andrus from the unique perspective of someone who's not just "been there, done that," but of someone who has actually "been there, crawled under/over/through it, lifted it up, dusted it off, figured out what it was, and decided what to do with it" again and again and again.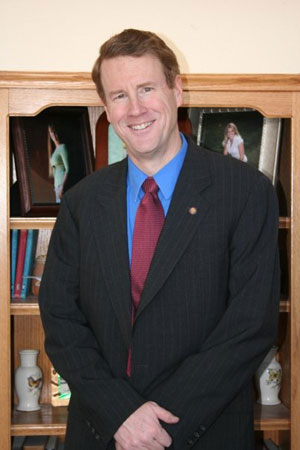 Lt. Col. Hal Bidlack
, USAF (Ret.), was born in Michigan in 1958 and resided there until his graduation from the University of Michigan in 1980. Beginning in 1981, he served for more than 25 years as an officer in the United States Air Force, retiring in September, 2006, as a Lt. Colonel. He now lives in Colorado Springs, Colorado. Hal served in the Political Science Department at the Air Force Academy, where he taught thousands of cadets — who often wrote in course evaluations that "the Colonel is the best teacher I ever had." In the Fall of 2007, the Academy invited Hal to return to the faculty as a civilian. He is an expert on the Presidency, the U.S. Constitution, and the Founding Fathers. He is a recognized national authority on Alexander Hamilton.
Hal will once again be lending his considerable talents as the Master of Ceremonies for TAM 7. It should be noted that in 2008, Hal ran for the U.S. Congress and stressed critical thinking in his campaign. He lost.
Dean Cameron
is an American television and film actor. He is best known for his role as Francis "Chainsaw" Gremp in the 1987 Mark Harmon comedy
Summer School
. He tours with a two-person show entitled "The Nigerian Spam Scam Scam", in which he and actor Victor Isaac read from Cameron's 11 month correspondence with a Nigerian 419 Scammer. The show was performed at the Edinburgh Fringe Comedy Festival in 2004 and 2005, the Just For Laughs festival and the Upright Citizens Brigade theater in 2006 and ran in Los Angeles from September 2004 to December 2004.
Daniel W. "Chip" Denman is a Research Associate and Senior Lecturer at the University of Maryland, where he created the course "Science & Pseudoscience" in which ESP, astrology and other extraordinary claims provide a context for understanding the way the scientific method is supposed to work. Prior to joining the university, he was a mathematical statistician at the National Institutes of Health. He is a founder of the National Capital Area Skeptics and has been active as a public speaker, author, media contact, graphic designer, and long time statistical advisor for Randi's Challenge. At TAM4, he and Jamy Ian Swiss gave the workshop "Information and Dis-Information: Looking at Data Without Getting Fooled."
Tim Farley
is a software engineer who lives in Atlanta, Georgia. He's done research into computer security and reverse engineering and has one patent. He had been a closet skeptic for years, but attending TAM 5 in 2007 motivated him to become involved. He created the website
What's The Harm
in 2008 to help draw attention to stories of real-world victims of pseudoscience and misinformation. It was an instant success and led to Tim giving a popular presentation on internet skeptical tools at TAM 6. He now has a blog called
Skepical Software Tools
where he writes about how skeptics can use the internet to be more effective.
D.J. Grothe
is a program director at the Center for Inquiry, a think-tank collaborating with the State University of New York on the new Science and the Public program. An associate editor for Free Inquiry magazine, he lectures and debates frequently on topics surrounding science and central beliefs at colleges and universities throughout the United States. He hosts the nationally popular podcast and radio show,
Point of Inquiry
, discussing fundamental questions with the world's thought-leaders, exploring the implications of the scientific outlook for society's most cherished convictions. A "mind-reader" and magician, he studies the processes of deception and self-deception. His award-winning performances focus on the powers of the mind, parapsychology, and the challenge that skeptics bring to paranormal claims.
Harriet Hall, MD
, aka The SkepDoc, is a retired family physician and flight surgeon for the Air Force. She did everything from delivering babies to performing minor surgery at Air Force bases in Cheyenne, Wyoming and Plattsburgh, New York. She headed disaster response teams, went on search and rescue and helicopter med-evac missions, was responsible for occupational and environmental medicine and public health on base, got to wear a flight suit with lots of zippers and pockets, and even got to take the controls of a B-52 and an FB-111. She also owned her own plane and was an instrument-rated private pilot.
At that time, she was in a small minority as a female physician, Air Force officer, pilot, and flight surgeon. She encountered prejudice in all these areas, leading to much frustration and many amusing experiences which she describes in her recently published book
Women Aren't Supposed to Fly: The Memoirs of a Female Flight Surgeon
. The title refers to an incident when she was learning to fly – after her first solo flight, when she went to the flight service station to close out her flight plan, the man behind the counter asked, "Didn't anybody ever tell you women aren't supposed to fly?"
Since retiring from the Air Force as a full colonel, she has spent her time investigating and writing about alternative medicine, quackery and critical thinking. She is one of the editors of The Scientific Review of Alternative Medicine, a contributing editor to both Skeptical Inquirer and Skeptic magazines, an advisor to the Quackwatch website, and an editor of the Science-Based Medicine blog. She writes the "SkepDoc" column in Skeptic magazine and also contributes frequently to the JREF's "Swift." Her website is
The SkepDoc
. She now lives in Puyallup, Washington with her husband Kirk, also a retired Air Force officer. She has two grown daughters. No grandchildren yet, just a grand-dog and a grand-horse.
Ray Hall
is an associate professor in the department of physics at California State University, Fresno where he teaches introductory physics, quantum mechanics, and general education courses in critical thinking and the philosophy of science. He has a PhD in experimental high energy particle physics from UC Riverside and was part of the team that discovered the top quark using the DZero Detector at Fermi National Accelerator Laboratory. Recent topics of public and invited lectures include: how we know the ages of the earth and universe and the consilience of science behind these remarkable facts, an exploration of the real mysteries of quantum mechanics, and a presentation on the not so simple problem of how to tell science from non-science.
Ray will be hosting the Paper Presentation session on Sunday, July 12.
Multi-instrumentalist, singer, songwriter, skeptic, podcaster, producer, composer and heliocentrist
George Hrab
has written and produced five independent CDs; published one book; performed for President Clinton; shared the stage with countless musicians and acts; and traveled across the country, both as a drummer for the nationally recognized Philadelphia Funk Authority, and as defacto President for Life of The Geologic Orchestra.
George's podcast,
The Geologic Podcast
, is a favorite for many rational listeners, featuring his unique and hysterical take on many matters skeptrical. He will also be the MC for the Talent Show on Saturday night, July 11.
Ray Hyman, Ph.D, is Professor Emeritus of Psychology at the University of Oregon. He received his Ph.D. degree in experimental psychology at The Johns Hopkins University in 1953. Hyman's published research has been in such areas as pattern recognition, perception, problem solving and creativity, and related areas of cognition. His books include Mathematics for Psychologists, Water Witching U.S.A., The Nature of Psychological Inquiry, and The Elusive Quarry: a scientific appraisal of psychical research.

He has served on a variety of governmental committees and has done editorial work for most of the major psychological journals as well as for Nature, Science, and other general scientific magazines. In 1995 he was appointed to the blue ribbon panel to evaluate the previously secret program of psychic spying conducted by the CIA and the Defense Intelligence Agency during the previous twenty years.

Hyman has appeared on Larry King Live, ABC's 20/20, Nightly News with Dan Rather, Scientific American Frontiers, Nova, and several others. Each year, since 1992, he has conducted a workshop in Eugene entitled "The Skeptic's Toolbox." The goal of the workshop is to provide the participants with the knowledge and tools to properly evaluate paranormal and controversial claims.

In 2000, the Fellows and Scientific Consultants of the Committee for the Scientific Investigation of Claims of the Paranormal voted Ray Hyman to be one of the ten outstanding skeptics of the twentieth century. In 2003, Hyman was presented with the In Praise of Reason Award by the Committee for Skeptical Inquiry.



Joe Nickell, Ph.D.
(University of Kentucky, 1987), is Senior Research Fellow of
the Committee for the Scientific Inquiry
(CSI, formerly CSICOP) - an international scientific organization - and investigative columnist for Skeptical Inquirer magazine.
A former professional stage magician (he was Resident Magician at the Houdini Magical Hall of Fame for three years) and private investigator for a world-famous detective agency, Dr. Nickell taught technical writing for several years at the University of Kentucky before taking the full-time position with CSICOP at its offices at the Center for Inquiry in Amherst, New York.
Utilizing his varied background, Nickell has become widely known as an investigator of myths and mysteries, frauds, forgeries, and hoaxes. He has been called "the modern Sherlock Holmes," "the original ghost buster," and "the real-life Scully" (from The X-Files). He has investigated scores of haunted-house cases, including the Amityville Horror and the Mackenzie House in Toronto, Canada.
Dr. Steve Novella
is an academic neurologist at Yale University School of Medicine. In addition to being the host of
The Skeptics' Guide to the Universe podcast
, he is the president and co-founder of
the New England Skeptical Society
. He is also the author of
NeuroLogicaBlog
, a popular science blog that covers news and issues in neuroscience, but also general science, scientific skepticism, philosophy of science, critical thinking, and the intersection of science with the media and society. Dr. Novella also contributes every Sunday to The Rogues Gallery, the official blog of the SGU, every Monday to
SkepticBlog
, and every Wednesday to
Science-Based Medicine
, a blog dedicated to issues of science and medicine. Dr. Novella will be running
the Science-Based Medicine conference
on Thursday July 9.
Jennifer Ouellette
is a recovering English major who stumbled into science writing quite by accident, and has been avidly exploring her inner geek ever since. She is the author of Black Bodies and Quantum Cats: Tales from the Annals of Physics and The Physics of the Buffyverse, both published by Penguin, and is currently writing her third book, Dangerous Curves: How I Learned to Stop Worrying and Love the Calculus. Her work has also appeared in New Scientist, Discover, Salon, Symmetry, and Physics World, among other publications. As of November 2008, she is the director of
the Science and Entertainment Exchange
(SEE), a new LA-based initiative of the National Academy of Sciences to foster creative collaborations between industry professionals in Hollywood and scientists.
Penn & Teller
hardly need an introduction:
the "Bad Boys" of comedy and magic
are the stars of stage, screen (both little and big), and they're Showtime program, ah, "Bulls hit" have brought skepticism into the homes of millions of viewers. Longtime friends of the JREF - Randi introduced Penn to Teller - they'll be appearing at TAM once again. Controversial, thoughtful, funny, and always entertaining, we're thrilled to have them back with us.
Note added March 4, 2009: Emily Rosa, who was originally listed as a speaker for TAM 7, will not be able to attend. Our apologies for this.
Adam Savage
has spent his life gathering skills to take what's in his brain, and make it real. He's built everything from ancient buddhas, to futuristic weapons, from spaceships to dancing vegetables, from fine art sculptures to animated chocolate- and just about anything else you can think of.
The son of a filmmaker/painter and a psychotherapist, he's been making his own toys since he was allowed to hold scissors, and has never stopped. Having held positions as a projectionist, animator, graphic designer, carpenter, interior and stage designer, toy designer, welder, scenic painter, and worked with every material and process he could get his hands on; metal, paper, glass, plastic, rubber, foam, plaster, pneumatics, hydraulics, animatronics, neon, glassblowing, moldmaking, and injection molding to name a few.
Since 1993, Adam has concentrated on the special-effects industry, honing his skills through more than 100 television commercials and a dozen feature films, including Star Wars Episode I: The Phantom Menace and Episode II: Attack of the Clones, Galaxy Quest, Terminator 3, A.I. and the Matrix sequels. He's also designed props and sets for Coca-Cola, Hershey's, Lexus and a host of New York and San Francisco theater companies.
His skills don't end there. Not only has he worked and consulted in the research and development division for toy companies, and made several short films, but he's also acted in several films and commercials — including a Charmin ad, in which he played Mr. Whipples' stock boy. And a Billy Joel music video, "Second Wind", in which he drowns.
And now, in addition to co-hosting Discovery Channel's
MythBusters
, Adam also teaches advanced model making, most recently in the industrial design department at the San Francisco Academy of Art. And somehow, he also finds time to devote to his own art; his sculptures have been showcased in over 40 shows in San Francisco, New York and Charleston, W.V.
Dr. Michael

Shermer
is the Founding Publisher of Skeptic magazine (
www.skeptic.com
), the Executive Director of the Skeptics Society, a monthly columnist for Scientific American, the host of the Skeptics Distinguished Science Lecture Series at Caltech, and Adjunct Professor of Economics at Claremont Graduate University.
Dr.
Shermer
's latest book is
The Mind of the Market
, on evolutionary economics. His last book was
Why Darwin Matters: Evolution and the Case Against Intelligent Design
, and he is the author of
Science Friction: Where the Known Meets the Unknown
, about how the mind works and how thinking goes wrong. His book
The Science of Good and Evil: Why People Cheat, Gossip, Share Care, and Follow the Golden Rule
, is on the evolutionary origins of morality and how to be good without God. He wrote a biography,
In Darwin's Shadow
, about the life and science of the co-discoverer of natural selection, Alfred Russel Wallace. He also wrote
The Borderlands of Science
, about the fuzzy land between science and pseudoscience, and
Denying History
, on Holocaust denial and other forms of pseudohistory. His book
How We Believe: Science, Skepticism, and the Search for God
, presents his theory on the origins of religion and why people believe in God. He is also the author of
Why People Believe Weird Things
on pseudoscience, superstitions, and other confusions of our time.
Dr.
Shermer
received his B.A. in psychology from Pepperdine University, M.A. in experimental psychology from California State University, Fullerton, and his Ph.D. in the history of science from Claremont Graduate University (1991). He was a college professor for 20 years (1979-1998), teaching psychology, evolution, and the history of science at Occidental College (1989-1998), California State University Los Angeles, and Glendale College. Since his creation of the Skeptics Society, Skeptic magazine, and the Skeptics Distinguished Science Lecture Series at Caltech, he has appeared on such shows as
The Colbert Report
,
20/20
,
Dateline
,
Charlie Rose
,
Larry King Live,
Tom Snyder
,
Donahue
,
Oprah
,
Lezza
,
Unsolved Mysteries
(but, proudly, never Jerry Springer!), and other shows as a skeptic of weird and extraordinary claims, as well as interviews in countless documentaries aired on PBS, A&E, Discovery, The History Channel, The Science Channel, and The Learning Channel.
Shermer
was the co-host and co-producer of the 13-hour Family Channel television series,
Exploring the Unknown.
The Skeptics Guide to the Universe
is
the official podcast of the JREF
. Hosts Steve Novella, Bob Novella, Rebecca Watson, Evan Bernstein, and Jay Novella discuss current events in science and skepticism, and will be doing a live show on Friday and Saturday morning before the official TAM 7 festivities start for the day.
Alison Smith
is a retired private investigator, founder of
Skeptical Analysis of the Paranormal Society
, and Research Assistant for the JREF where she negotiates protocols for the One Million Dollar Paranormal Challenge. Her opinions on the critical thinking and the paranormal have been featured in eSkeptic, Skeptic Report, the newsletter of the Secular Student Alliance, MSNBC.com, and the LA Times blog. She has been interviewed on multiple radio shows and podcasts, and was one of the stars of truTV's Door to the Dead. Alison's investigations into the paranormal have led her all over the world, and she continues to post reports on critical thinking on her organization's web site.

Now based at the Broad Institute of MIT and Harvard as director of scientific education and communications,
Fintan Steele
valiantly tries to reap the whirlwind of post-genomic data for the bits that matter, and stitch those fragments together into something accessible and meaningful to people beyond the scientific community. He is alternately amused and infuriated by breathless media statements of "scientific breakthroughs" and by the shameless exploitation of bad or incomplete science in the marketplace, even by scientists themselves.
Legally married in Massachusetts and Connecticut (and recognized as such in New York), Fintan and his long-suffering husband Scott pour money into their old Medford, Massachusetts home and are entertained daily by their rescued Cornish Rex cats.
Jamy Ian Swiss
[
www.jamyianswiss.com
] has appeared internationally for presenters ranging from Fortune 500 companies to the Smithsonian Institution. He is the author of books including a collection of essays entitled
Shattering Illusions
, and
The Art of Magic
. His U.S. television appearances include CBS 48 Hours, PBS Nova and the PBS documentary
The Art of Magic
, Comedy Central, and repeat appearances on
The Today Show
. He has produced and written for television, including
Penn & Teller's Sin City Spectacular
.
As a public speaker, Jamy uses "magical metaphors" to address business audiences, from advertising giant Publicis to technology and design groups at Adobe, Intuit, and Electronic Arts. An expert in deception, he has lectured to magicians in 13 countries; to prosecutors and law enforcement about con games and street scams; to casino and gaming industry executives about cheating and gaming protection; and to scientists and academics on "The Illusion of Psychic Powers". A founder of
the National Capital Area Skeptics
, and of
the New York City Skeptics
, he hosted and performed for the opening night of the very first TAM, and he continued to perform or lecture at the second, third, fourth, and fifth TAMs.
In an in-depth profile about Jamy and the art of magic in the New Yorker, Adam Gopnik writes, "Swiss is widely thought to have one of the most masterly sleight-of-hand techniques in the world today ... like seeing Yo-Yo Ma practicing scales at Carnegie Hall."