---
MORE ON THE SOUTH AFRICA SITUATION
I will spend somewhat more space and time here on the ongoing state of affairs in South Africa that I have recently referred to, because readers have pointed out to me that (see randi.org/jr/2007-06/062207.html#i4) it's just as bad as I'd perceived it to be. This needs to be addressed by citizens of S.A., and acted upon.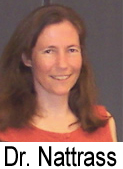 Reader Martin Delaney, the Founding Director of Project Inform, one of the earliest US (1985) AIDS treatment information and advocacy organizations (website projectinform.org) has battled with the "AIDS/HIV denialists" – and other medical quacks – and is currently part of a group that fights denialism in the US and South Africa. Martin points us to a book written by his friend Dr. Nicoli Nattrass, "Mortal Combat – AIDS Denialism and the Struggle for Antiretrovirals in South Africa." It tells the story of the enormous effort that was required trying to overcome the harm done in South Africa by its president, by its Health Minister, and a collection of Western-based con artists and quacks. That struggle continues today.
Martin offers this, suggested by last week's item at randi.org/jr/2007-06/062907.html#i6:
I for one would like to express some support for your recent comments about the rationalism of South Africa. You're right on target talking about the HIV issues. I am in daily contact with researchers and activists there and have seen first hand the terrible damage done by Mbeki's HIV denialism and the "seeds and twigs" approach to medicine favored by the Health Minister. A new book chronicles the battles over these issues in the last few years. But this is just the tip of the iceberg. There is still widespread belief that AIDS can be "cured" by having sex with a virginal child, as well as by a number of bogus remedies that are openly sold and promoted without opposition. South Africa's problem is that despite the end of apartheid, it is still a country of widely disparate populations, some of which are firmly planted in the 21st century and others which are still living in a distant and superstitious past. There is a pervasive political correctness, however, which prevents anyone from challenging even the most primitive and destructive beliefs.
As for teaching evolution, it's true that it's in the school curricula, but it's hardly a measure of rationalism. Much of the educational system simply hasn't reached the point where a debate about creationism vs. evolution could even take place. One of the great problems of this pervasive tolerance of irrationality is that it creates endless opportunities for exploitation by ruthless crooks – usually based in Western countries. Because of such factors as Mbeki's denialism and his Health Minister's garlic cures, South Africa is many years behind where it should be in confronting the AIDS epidemic. It is no mere coincidence that it has the worst spread of AIDS of any significant country, to say nothing about its problems with malaria, TB and half a dozen tropical diseases.
South Africa has made enormous strides in terms of social progress, but it has a very long way to go in matters of rational medicine and health.
Fortunately, there are many world class scientists and health care workers in South Africa who, along with the internationally acclaimed Treatment Action Campaign (TAC), are making heroic contributions in the fight against AIDS. Together, they will overcome these problems, just as the country overcame Apartheid in earlier years.
Martin Delaney's friend Greg Folkers supplied media write-ups that further express just how pervasive the official acceptance of woo-woo is in South Africa. In summary, one press article asks:
Got a cure for AIDS? Maybe you're convinced that large doses of vitamins can do the trick or that you have found the answer scores of scientists over the last 25 years could not. If you live in South Africa there is little to prevent you from packaging your "wonder product" in an old coke bottle or a fancy pill container, depending on your means, and selling it for whatever price you can get. Pharmacies in Johannesburg's chaotic inner city stack their shelves high with immune boosters, herbal remedies and health tonics. Most items are not explicitly advertised as effective against HIV, but street hawkers outside are less shy about making such claims. They offer products with names like "Life Extension" and "Ozone Rectal Treatment" for prices that equate to a sizeable chunk of the average South African's monthly income. Despite selling untested concoctions that make unproven claims about their effectiveness in treating AIDS, they are rarely disturbed by the authorities.
There's the problem. As here in the USA, authorities have to be forced into taking action against quackery, or they do nothing, sitting back and relying on "faith-based" forces to sort out the mess. As the report says:
A lack of enforcement of the regulations that cover all medicines, and the delay in adopting new legislation that would focus specifically on complementary medicines, has allowed the growth of a rampant industry in untested remedies for AIDS and other serious illnesses. According to Nathan Geffen of the AIDS lobby group, Treatment Action Campaign (TAC), the government's reluctance to crack down on the sale of untested remedies is in line with Health Minister Manto Tshabalala-Msimang's history of endorsing such products. "All of this sends a signal to people that it's open season to sell untested medicines," he said. "There's no enforcement, and even active support of quackery."
In theory, any substance purporting to treat a disease or its symptoms is covered by South Africa's Medicines Control Act and subject to a rigorous registration process that includes providing proof of properly conducted clinical trials.
And, doesn't this sound just like the situation here in the USA, where we seem to pride ourselves on having such high standards of medical care – and caring? The article continues:
In practice, labeling a medicine "complementary" appears to exempt it from this process: "registration" simply involves submitting a dossier listing the product's contents and the claims for its efficacy to the Medicines Control Council (MCC), the regulatory authority. According to Alan Tomlinson, chairman of the Health Products Association of South Africa (HPA), an umbrella body for the complementary medicines industry, once the dossier has been submitted, a receipt from the MCC is sufficient to begin trading.
The MCC's registrar, Mandisa Hela, denied this, explaining that a dossier had to be evaluated first, but Andy Gray, of the University of KwaZulu-Natal's Department of Pharmacology, pointed out that none of the 15,000 dossiers for complementary medicines submitted to the MCC since 2004 had received the results of the MCC evaluation. He argued that taking a dossier at face value "makes a mockery of the whole system" and in the absence of historical evidence confirming a complementary medicine's safety, it should go through the same registration process as any other medication. Europe and Australia have taken this approach to complementary medicines, but under the leadership of Tshabalala-Msimang the MCC appears determined to put alternative remedies in a separate category from conventional medicines…
And here's where the tired old "science-can't-be-applied-to-our superstitions" ploy is brought into play by South African authorities – though that last word takes on new and unintended meaning, when so applied:
[Health Minister] Tshabalala-Msimang referred to the draft legislation in a 2005 editorial published in The Star, a local newspaper: "We cannot transplant models designed for scientific validation of allopathic [conventional] medicine and apply it to other remedies. There is a need for creativity to come up with relevant and pragmatic models to prove safety, quality and efficacy of complementary, alternative and African traditional medicines."
Total nonsense. Medicines and medical procedures can be definitively tested, using established means. One test is to simply try them; this has been done in South Africa, and the results have been deadly and disastrous. Now the Health Minister of that country is blaming that failure on the methods used to investigate, not on the process itself! If it doesn't work, throw it out and grow up! Is that philosophy too difficult for a 67-year-old politician to understand? I knew about that when I was only 14 or so!
There's much more to this frightening discussion, to be seen more completely at plusnews.org/Report.aspx?ReportId=73039, but I'll just add this: A recent World Health Organization report noted that if South Africa is to meet its AIDS treatment goals, "It is necessary to address issues related to stigma, the fear of treatment side-effects, and quackery." If this doesn't convince the world that South Africa needs to get its act together, I don't know what will. That country is in deep trouble, as I previously commented.
Mr. Delaney also asks us if
…there's anything we can or should be doing to counter the nonsense being spread world-wide by George Noory on the Coast to Coast radio show. Normally I wouldn't care but it's now one of the most widely-heard radio shows in the entire world, and since Noory took it over from Art Bell, it has gotten worse with each passing month. It seems that any idiot claiming any bit of nonsense gets a featured slot on the show, while anyone with real credentials or scientific training is never heard. I really believe the show is doing harm to the American public, encouraging the modestly educated to return to the superstitions of past years. Ghosts, "shadow people," witches spells, Sylvia Browne, creationists, quack therapies, perpetual motion machines, remote viewing – the list is endless and gets repeated and recycled almost every week. Tonight it's some goofy creationist babbling about how the Earth is just a few thousand years old.
Is there any way we can go after this guy? This crap is increasingly making the US the laughing stock of the developed world.
Martin, George Noory is doing very well without having to adopt any scruples, ethics, or responsibility. (George, look up those strange words in the dictionary.) He doesn't need any of that baggage, which might slow him down. Creationists, Browne, ghost-hunters, all dote on the free run they'll get because they know that Noory simply doesn't care for anything but his ratings. Montel Williams, by his own admission, doesn't believe in psychics, but features them because they bring in the audience, and thus the ratings. There's no respect held for the listening/viewing audience, because they're the cannon fodder that's expendable.
Sometimes I wish that people actually would be called to account for their lies, deceit, and callous indifference after they die. Fat chance…