January 5, 2007


"...the chief end I propose to myself in all my labours is to vex the world rather than divert it." - Jonathan Swift
Table of Contents:

TAM 5 Registration Now Open!

January 18-21, 2007 at the Riviera Hotel and Casino in Decadent Las Vegas, NV.

Click here for more info.




Want more? View past issues of Swift and Randi's opinions. Click here.

Help support the JREF through grants, donations, gifts and memberships.

Click for more.
---

REAL SCIENCE
If you ever have to make an argument for the glory and beauty of real science – as opposed to what so many of the public look upon as science – you can refer to tinyurl.com/y5nnks and simply sit back. Here, our colleague Phil Plait has placed his 2006 Top Ten astronomy images list. One of them will particularly get our readers' attention, I'm sure. That's number seven, shown here.
Of course, this will displease a huge number of the naïve out there who would prefer the highly-touted and celebrated Hoagland scam over the actuality – but that's the way science is; it offends the naïve. See randi.org/jr/03-16-2001.html and do a search for "Hoagland."
Try, if you can, to establish a scale of reference in any one of these star photographs Phil offers, and you will begin to realize just how vast, exciting, and humbling the universe can be, particularly if you have not been well-exposed to these wonders already.
Thank you, Phil, for this little bit of reality. And we'll be seeing you in Las Vegas at The Amaz!ng Meeting 5, in less than two weeks!
---
CNN'S ETHICS
Reader Tom McMahan in Rising Fawn, Georgia, comments on last week's lead item, the CNN John Edward interview. I came down on the host's fawning treatment of John Edward in which the "psychic" was allowed to run away with the show:
I think you're probably being too generous in regards to Glenn Beck. Yes, I'm sure CNN wants their ratings to be higher above all else. They've publicly stated that's why they've given someone like Beck a primetime slot. It's because they're trying to "outFox" FoxNews, beat them at their own pandering-to-anger/superstition/fear-game, and confusing opinion with news. I'm not surprised that it's working, either. I'm almost certain that someone like Beck (or any other Talking Head) doesn't really believe in the crap that someone like Edward puts out, nor do they really care. They're just serving themselves and the network under the aegis of "giving the people what they want," i.e. a load of horse manure, in this case.
Just keep pointing out how high the horse manure is when it appears! I know it's got to be frustrating sometimes, but if nothing else, it'll prove to future generations that everyone during this period of time didn't have their head stuck somewhere it shouldn't be! Thanks for your continued efforts.
---
THAT DOWN-UNDER MEDICINE MATTER
Reader Kylie Sturgess reminds me, in regard to last week's item at www.randi.org/jr/2006-12/122906journalist.html#i2 – that:
What you may not be aware of (and may consider appending to your commentary) is that Loretta Marron of Queensland was instrumental on having the Hon. Tony Abbott make an announcement – only days after the Melbourne Australian Skeptics conference [late last November] – about a $5 million investigation into the use and effectiveness of complementary medicines.
Her efforts included investigating 2000 items and writing a report that was sent out to high-profile medical professionals around the country. It was a highlight of the Melbourne Conference to know that this woman – who was diagnosed with cancer in 2003 – took on the challenge after being offered the insulting placebos as an additional remedy. I have attached the article written by her in the Summer 2006 edition of the Skeptic. Her efforts are also mentioned here: www.australiandoctor.com.au/news/8f/0c046a8f.asp
In addition, your comment about the ABC screening of "Psychic Detectives":
Whether this attempt to have the series withdrawn will succeed or not, my suggestion would be to keep it before the public, but run a follow-up discussion after each show showing how inane it is…
You may not be aware that Richard Saunders, of the Australian Skeptical podcast "The Tank" and educational site "Mystery Investigators" has a regular update on EVERY single episode of "Psychic Detectives" since it began and has encouraged regular writing in to the ABC. His site features all of this with additional articles and mp3s of comments here: www.mysteryinvestigators.com/psychicinvestigators.htm He regularly updates this and has mentioned it on the JREF Forum previously.
You may also find on that same JREF Forum (where I used to be a moderator) links to my own challenge to "Psychic Detectives" in the form of a radio essay on Robyn Williams' Science Show on ABC's Radio National. A link to that show, where Mr. Williams also makes a strong statement against it, is here: www.abc.net.au/rn/scienceshow/stories/2006/1801778.htm – a transcript of my essay, which was also printed in the Summer Edition of The Skeptic, is here: www.abc.net.au/rn/scienceshow/stories/2006/1801778.htm.
I look forward to elaborating more about the importance of such community-led and socially-conscious skeptical ventures, as I will be speaking as a Sunday Paper presenter at the Amazing Meeting 5 later this month.
From another Aussie reader, Sam Thompson:
I, too, was disappointed to see the "Psychic Detectives" program in the ABC's schedule – it's the kind of program one expects of TCN, our channel 10 here in Sydney – which shows "Medium," although also "Numb3rs" to balance things out. It's particularly galling considering the ABC is publicly funded and my tax dollars have been used to pay for this crud. You say "...not if those dollar signs continue to appear in the air to them." Given that the ABC are not out for commercial gain, I'm really at a loss to explain why they'd want to show this rubbish. It's ignorance, I fear.
I'm also afraid that this unscientific nonsense is not only polluting programs imported from the US, but home-grown Australian ones as well. A segment shown during the ABC's recent coverage of the international tennis tournament, the XIX Hopman Cup, involved an "astrologer and face reader" (Dadhichi – see www.astrology.com.au) being seriously interviewed amongst the usual candles and black velvet. He gave predictions about the likely successes or failures of the competitors from all around the world based on horoscope charts he'd produced for them, and the interviewer kept a straight face. Most appalling, considering that the outcomes of sporting contests should and can be demonstrated to relate to the current skills and fitness of the competitors involved, not the locations of large lumps of rock when they were born.
Re: Down-under developments – I'm not so confident about getting a good reaction from Tony Abbott, our health minister and my local MP. He is an avowed Catholic, and since they're prepared to believe that fermented grape juice might magically change into blood, he's probably not in a position to reject homeopathy. After all, if you're prepared to attack homeopathy and other quackery, then why not all the other unprovable beliefs, like the mainstream Judeo-Christian religions that dominate the "West"? I think that's one of the reasons the media and majorities in otherwise sensible "Western" societies keep quiet about all the wacky medical and psychic frauds that go on. It's too dangerous for the precious moral compass they cling to, in the mistaken belief that moral positions must always fall back on an "appeal to authority."
All in all, not a good week for Australia's reputation as a smart and sensible nation...
Anyway, I look forward to a fresh Friday Swift each week, and read them with a mixture of pleasure and sadness, pleasure that people are standing up to the superstitions and frauds being foisted on humanity all the time, and sadness, that no matter how much good people like you expose the lies, the poor victims cling to the fleeting and fragile comfort they bring. Keep up the good work!
Regarding that "shadow" matter, reader Michael Mayfield informs us:
You stated that a "Shadow Minister" in Australia is "one not yet officially in power, but expected to be." This is not quite correct. In our system, the major political opposition party assigns one of its elected Members of Parliament to "shadow" each Government department, thus effectively becoming a spokesperson ("Shadow Minister") in that area, scrutinizing Government legislation, criticizing Government policy, and helping to formulate Opposition policy. Shadow Ministers are changed every now and again like real Ministers, and they will never actually get into power if their party does not win an election, or if they do not keep their own elected Seat. Also being a Shadow Minister does not mean automatically becoming the equivalent Government Minister if the party does win. This can depend on internal party politics and their recent performance while in opposition.
Michael, thank you for this clarification. As I responded to several other Aussies who similarly corrected me, our Webster's Dictionary defines "shadow cabinet" as,
A group of prominent members of the parliamentary opposition who are expected to hold positions in the cabinet when their party assumes power.
I was unable to find any entry in the O.E.D. covering this. Thus my usage. Some Canadians gave me an even different definition…!
Regarding other comments about ABC-TV Australia bringing in income – it doesn't, because it's government-supported. I was aware of that, but should have made myself clearer. That official government support will depend on how well ABC Australia meets the expectations of those who vote its budget each year, and those who make such decisions might very well be inclined to continue or enhance funding if the woo-woo factors are emphasized appropriately. Consider the situation with PBS (Public Broadcasting System) here in the USA. Both on public-supported TV channels, and National Public Radio, the local stations appeal to the public for additional support by featuring blatant feel-good fakes like Deepak Chopra, Tony Robbins, and Wayne Dyer during regular programs asking for funds. That process resulted in my personal withdrawal of support from both PBS and NPR; I simply cannot personally support any agencies that pander to superstition, irrationality, or quackery.
The situation here in the USA in regard to commercial communication outlets is hardly better. As I mentioned just last week, co-host Matt Lauer of the NBC Today Show has shown clearly that he embraces woo-woo notions such as speaking with dead people. As I said, I'd have put Matt among the major TV personalities least likely to go "to The Dark Side." But Katie Couric, late of the NBC Today Show and now with the CBS News network, easily accepted John Edward's scam as real, and ABC-TV's Diane Sawyer fell for "facilitated communication" as genuine – even after her writers consulted with me by phone. ABC also opted to accept "John of God" as a legitimate miracle-maker (see www.randi.org/jr/021805a.html) even though I went to them in NYC, at their request, with videos and an actual demo of the miracles, all of which they decided not to use because that would have spoiled a very good – but blatantly mendacious – story. Even Diane Rehm of NPR, in her highly-popular program, embraces supernatural claims and presents them as genuine…
As you well know, folks, we have a professional religious clown here in the USA named Pat Robertson. Tuning in to the NBC-TV Today Show just this morning, I heard that their opening summary of the top overnight news developments started with George Bush's plan to send an additional 20,000 troops into Iraq – rightly the most important item, by far – but it was immediately followed in #2 position by the "news" that Robertson had heard from God overnight with dire prophecies.
In what has become an annual comedy tradition of New Year prognostications, Robertson said God has told him that an upcoming terrorist attack on the United States will result in "mass killing" late in 2007, but he modified that with "not necessarily… nuclear," and "I do believe it will be something like that." He said that God told him major cities and "possibly millions of people" will be affected by the attack, which "should take place sometime after September." Thanks for this definitive message from your Bearded Friend in the Sky, Pat. Perhaps God mumbles to you to be more enigmatic? But let's take a look at what this clown – and his imaginary informant – has to support his claim – to quote his own words – that he has "a relatively good track record," adding, however, "Sometimes, I miss."
Agreed. In January, 2006, Robertson said that God had punished then-Israeli Prime Minister Ariel Sharon with a massive stroke for ceding Israeli-controlled land to the Palestinians. Sharon's basically bad physical/medical condition had nothing to do with this, of course, since God works in mysterious ways – so mysterious that no one, including Pat, can understand him. He was mumbling again, perhaps.
Pat predicted in January, 2004, that President George Bush would easily win re-election, though Bush only won a minimal 51 percent of the vote. In 2005, Robertson predicted that Social Security reform proposals would be approved – which didn't happen. In May of 2005, he said God told him that storms and "possibly a tsunami" were to crash into America's coastline in 2006. Even though the US was not hit with a tsunami, and there was essentially no hurricane season, Robertson has cited last spring's heavy rains and flooding in New England as "partly fulfilling" the prediction.
What's happening, folks? This buffoon is featured by the news networks regularly, he commands a serious amount of attention from the public, and he just flounders about, year after year, failing and being laughed at – yet always drawing attention from the media! There used to be a time when only the "yellow" tabloids would even consider such flummery, but now even the most prestigious agencies actually pay attention to such as Robertson, as if he were some sort of authority. Must America bear this humiliation, as well…?
---
BOOK REVIEW
Reader John Bice has a book out – a collection of essays on politics and religion he wrote between 2002 and 2006 for The State News, which serves the Michigan State University and East Lansing community. The author defines his writing style as, "often confrontational, acerbic, and blunt." The essays are just that. Says he,
…my primary motivation for publishing this collection is to encourage other secular and rationalist individuals to become vocal and involved in their own local media.
Stringing together such essays leads to the inevitable repetition of some thoughts and ideas, though author Bice has attempted to minimize that factor. I find the book strong, and, yes, blunt. This will provide you with many arguing points, and I recommend it for that purpose.
---
UNIVERSAL HOROSCOPE
Tim Harrod, a person who knows Scott Dikkers – thus a strange person – sends us this:
Ahoy there, Randi! I regret that I cannot be present at TAM5, so busy shall I be as a writer for "Late Night With Conan O'Brien," but I'm delighted that at last my erstwhile boss, Scott Dikkers of The Onion, will be appearing in the same spirit that I would wish to.
I hope, however, that the following short humor piece serves you well, whether in the weekly commentary or wherever you find it serviceable. I continue to wish you good health and joy in every day of your life.
Tim adds that he also appears in "The Aristocrats," which you can discover – at your peril – at tinyurl.com/yfwxdn. Here's what he contributed:
THE SKEPTIC'S HOROSCOPE for Capricorn, Aquarius, Pisces, Aries, Taurus, Gemini, Cancer, Leo, Virgo, Libra, Scorpio, and Sagittarius (Jan 1, 2007 – Dec 31, 2007):
The coming year is likely to present challenges; these trials are when your true character will show. Trusted friends can provide assistance in particularly pressing situations. Make use of the skills you have to compensate for ones you lack. Your reputation in the future depends on your honesty and integrity this year. Monetary investments will prove risky; inform yourself as much as possible. On the positive side, your chances of winning the lottery have never been greater!
Surely a successful and evidential proof for astrology…!
---
MAYBE…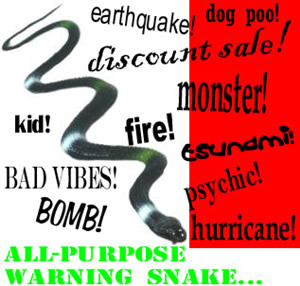 We hear reports that China has come up with an earthquake prediction system which relies on the behavior of snakes. Read on, before concluding that someone's made an inarguably woo-woo decision.
Experts at the official mainland earthquake bureau in Nanning, capital of the Guangxi region in southern China, have been monitoring snakes at local snake farms – where they're raised as food – via video cameras specifically set up to test a theory. The cameras are linked through a broadband Internet connection running 24 hours a day. Recently, two quakes struck off neighboring Taiwan; two people were killed and 42 injured when three buildings collapsed. The quake also damaged undersea telecommunication cables, affecting users across Asia. Earthquake Bureau director Jiang Weisong said that of all the creatures on Earth, snakes are believed to be the most sensitive to earthquakes, and can sense an imminent earthquake from 120 km (70 miles) away, three to five days before it happens. He says that when an earthquake is about to occur, snakes will move out of their nests, even in the cold of winter. If the coming earthquake is a big one, the snakes will even throw themselves against walls, trying to escape, he says.
I thought about that. It's not a new idea, at all, particularly in China, For centuries, it has been believed that birds, fish, and various mammals seem to be particularly sensitive to very low frequency vibrations carried in the Earth; since snakes "hear" by sensing vibrations in the ground, they would seem to be more than ordinarily eligible to be able to perform such detection. Also, there may be some subtle electrical changes preceding earthquakes to which animals could be sensitive. Experiments reported in 1933 indicated that otherwise-placid catfish confined in aquariums became agitated immediately before earthquakes – but only when the aquariums were "grounded" electrically.
I'm not at all unwilling to accept that this method of earthquake prediction is a distinct possibility. I don't know that I want to keep a cage full of snakes in my home just to protect myself from Earth tremors, but this claim has me very interested. I would tend to reject most of the evidence that is obtained by interviewing persons following the event, since – particularly if those questioned are made aware in advance of the reason for the inquiry – witnesses of this sort can often be found "going along" with the premise.
However, our good friend Bob Park of the American Physical Society does not share my interest in, nor my ability to entertain, this notion. Following the recent announcement of the Chinese project, his column, "What's New?" read:
SCIENTISTS IN CHINA OBSERVED BEHAVING STRANGELY.
On Tuesday, an earthquake that shook southern Taiwan damaged undersea cables and disrupted communications across Asia. It's not clear just what scientists at the earthquake bureau in nearby Nanning in southern China saw, but two days AFTER the quake they told The China Daily that snakes can sense a quake up to five days before it happens. How do they know this? The reptiles "behave erratically." To observe this behavior they installed cameras at a local snake farm to monitor the snakes 24/7…
To test this claim I've started monitoring the erratic behavior of Washingtonians from my office window. My initial assessment is that there are far more earthquakes than anyone realizes.
Bob, you forgot that very little happens in the 68-square-mile area known as "D.C." that can be rationally explained.
---
STILL MORE "OVER-UNITY" NOTIONS
My good friend Gyula Bencze, in Hungary, informs us of yet another free-energy scheme that ingenious scammers in his country have come up with, to separate the naïve from their money. This one is called, "Energy By Motion" [EBM] and the literature says that
The self-reliant EBM plant uses its own self-generated electromagnetic fuel. The research and development work of this hi-tech technology began in 1980 in four laboratories in Toronto, Houston, London and in Budapest, managed for ELECTRO ERG LIMITED (EEL) by the GAMMA Group, under Professor L. I. Szabó's leadership. This technology is non-nuclear, 100 % environment friendly with zero emissions.
And, in addition, we're told that
With the torque produced by EBM Units, large ships or locomotives can be directly driven!
Well, I was under the obviously mistaken conviction that ships and trains were already "directly" driven by portable units…! Otherwise, the long power cords tend to get in the way!
I'm puzzled. The EBM agency says that their company's present prototypes "measure a small degree over unity" – produce a bit more power than is put in – according to the measurement instruments and methods used. However, they say, the extent of output exceeding input is not enough in the present prototypes to then cycle back to keep the unit self-running. On the same theme, they state:
In other words, when we sell a 10-megawatt unit, it is actually producing 15-megawatts – it will be the 15-megawatt generator. It will take between one and ten percent of the rated capacity (depending on size) back to drive the EBM motor.
Hey, guys, you can't have it both ways; a 50% excess of power should – in the real world – be sufficiently more than "between one and ten percent" to keep the whirligig going…
Not only Hungary, but Australia is also in this market. Reader Dean Malandris tells us:
Found this gem, and I'm ashamed to say it's in our very own back yard. Another over-unity machine, and yes, it's Australian, so it MUST be good. They call it an Electricity Amplifier, and from the videos it certainly looks impressive, although I'm sure that if they had fitted a Jacob's Ladder to the top of the device, they would have achieved way more than a paltry 440% efficiency.
The site is www.lutec.com.au and the videos show how this incredible (in the literal sense) device works. They've also apparently found someone at Griffith University to testify that whatever he was sent was... umm... sent, from what I can work out. They also state "Lutec Australia Pty Ltd is not permitted by Australian law to advertise the availability of shares" and it's not hard to imagine why.
Personally, I'm going to build one of these, install a Jacob's Ladder on it as well, and whack it in the engine bay of my 4WD. I should be able to reach the Gulf Country on a pair of AA batteries.
I'll let you know how I go.
[The reference to a "Jacob's Ladder" needs explanation. This is a pair of parallel vertical wires that diverge toward the top, with very high voltage applied between them. The spark that jumps between the conductors at the base, climbs up the pair as the heated/ionized air rises, taking the spark along with it until it reaches the top. The hot air passes up beyond the tips, the arc is broken, and the spark re-commences at the base…]
The Lutec site says that their device is "expected to go on the market for $4000-$5000." Whether anyone will pay more than $20 for it, is not speculated on. You see, when I find claims such as
Relying on the attraction and repulsion of internal magnets, the Lutec 1000 operates continually on a pulse-like current 24 hours a day – producing 24 kilowatts of power – once it is kickstarted from a battery source. The device is more than 500 per cent efficient, compared to a car which is less than 40 per cent efficient and loses power through heat and friction.
Here's a cool quote from George Bernard Shaw that certainly applies to those who invest in such schemes:
The fact that a believer is happier than a skeptic is no more to the point than the fact that a drunken man is happier than a sober one.
---
THE GRAND CANYON'S AGE
How old? Well, the official stance on that question when asked of the National Park Service – a federal agency supported by our tax dollars! – is that they don't know! That's a lie. They do know, but they're not permitted to give an official estimate of the geologic age of its principal feature, due to pressure from Bush administration appointees. This is a direct, illegal, catering to the creationist nuts.
Public Employees for Environmental Responsibility (PEER) report that despite promising a prompt review of its approval for a book – "Grand Canyon: A Different View" – claiming the Grand Canyon was created by Noah's flood rather than by geologic forces – no review has ever been done, and that book, a creationist book production, remains on sale at the park. That review was promised three years ago. Says PEER Executive Director Jeff Ruch:
In order to avoid offending religious fundamentalists, our National Park Service is under orders to suspend its belief in geology. It is disconcerting that the official position of a national park as to the geologic age of the Grand Canyon is "no comment."
In August of 2003, Park Superintendent Joe Alston attempted to block the sale of the book at park bookstores at the Grand Canyon. The book claims that the canyon developed on a Biblical, rather than an evolutionary, time scale. The National Park Service Headquarters, however, intervened and overruled Alston. To explain, NPS Chief of Communications David Barna told reporters and members of Congress that there would be a high-level policy review of the issue. According to a recent NPS response to a Freedom of Information Act request filed by PEER, no such review was ever requested, let alone conducted or completed.
I find it interesting that records now released to PEER show that during 2003, Grand Canyon officials rejected 22 books and other products for bookstore placement while approving only one new sale item – the creationist book. Ironically, in 2005, two years after the Grand Canyon creationist controversy erupted, the Park Service approved a new directive on "Interpretation and Education (Director's Order #6)" which reinforces the posture of the NPS. Ruling 8.4.2, titled "Historical and Scientific Research," states:
Superintendents, historians, scientists, and interpretive staff are responsible for ensuring that park interpretive and educational programs and media are accurate and reflect current scholarship…Questions often arise round the presentation of geological, biological, and evolutionary processes. The interpretive and educational treatment used to explain the natural processes and history of the Earth must be based on the best scientific evidence available, as found in scholarly sources that have stood the test of scientific peer review and criticism. The facts, theories, and interpretations to be used will reflect the thinking of the scientific community in such fields as biology, geology, physics, astronomy, chemistry, and paleontology. Interpretive and educational programs must refrain from appearing to endorse religious beliefs explaining natural processes. Programs, however, may acknowledge or explain other explanations of natural processes and events.
Come on, folks, this is a faith-based administration which ignores such directives so that religious claptrap may be freely distributed. We gave up democracy only recently, but we'd better get used to doing without it.

---
A FRUITLESS DISCUSSION
On December 31st, I received this tricky question from an A.M. Pettry:
Do you feel everything that exists can be proven to exist via testing of some form or another?
Knowing full well how this was obviously opening up the proverbial "can of worms," I responded simply, "Yes."
Mr. (Ms.?) Pettry immediately fired back:
I thank you for your response. Though I have a tendency to feel the same, I also do not. To feel everything is provable eliminates many things as real. God, being one of the foremost. This is a real problem for me, for so many things cannot be proven but exist.
I appreciate much of your work with regards to the many "fakes" that exist in many areas. But I feel so very sad that just because scientific proof does not at this time exist for many things, that people would shut themselves off to the concepts of these things.
Not so very long ago we knew nothing of atoms, we still know little with regards to the human mind, and many of the worlds leading physicists are discussing multi dimensional existence. To say anything cannot exist without proof seems so limiting and sad.
I answered:
You wrote: "To say anything cannot exist without proof seems so limiting and sad."
Very true, I agree, thus I've never said that. You asked me, "Do you feel everything that exists can be proven to exist via testing of some form or another?" I responded, "Yes." I did not say – nor did I imply – that anything cannot exist unless it has proof, nor would I ever make such a statement. Please don't invent or extrapolate attitudes, opinions, or statements for me.
You cite "God" as one of your "provables." To which "God" do you refer? Loki, Minerva, Jehovah, Zeus, Manitou…? Define which of the thousands of Gods you refer to, design a test, and let's do it…. Merely showing that no explanation for any given phenomenon exists – at this time, to borrow your phrase – is not sufficient cause to decide that this phenomenon is therefore supernatural, or has no possible explanation. I get observations thrown at me – How do you explain love? Why is there gravity? Who made hummingbirds? – and then an unctuous smirk that indicates The Perfect One-Up-Manship Ploy to which I'm expected to be powerless to respond…
He/she responded:
Again, I sincerely thank you for taking the time to respond. I am somewhat disappointed. I in no way was implying or attempting to invent attitudes for you as you suggest. I am inquiring for my own self interest, and have no interest in inventing anything with regards to what you believe. My point was, and remains, that not everything is able to be proven at this time. And just because it is not proven at this time I do not feel that it can be dismissed. At the same time, I do not feel it is to be taken as "fact." But to not even acknowledge that it could exist, limits any exploration into the validity it may or may not have.
Randi comments: Note his/her further invention of an assertion by me – that I would dismiss a claim because it cannot be proven "at this time." This person has not followed the text, at all. Now, it's a presumed dismissal of the possibility that some fact or power could exist – which I did not claim. I only seek evidence, after which I will accept the claim. At the same time, I do not accept the claim as true by default, because no evidence has been produced. But, note, my previous request for a test of the existence of a god, has been ignored…
In your references to my citing God, you did nothing but try to make a mockery of such beliefs, trying to dismiss it with the same "unctuous smirk that indicates The Perfect One-Up-Man-Ship " that you seem to imply I had done to you, again not correct.
While on the subject of God, the existence of "God" would not be supernatural as you indicate, rather it would be natural would it not?
No. The existence of a deity is, by definition, a supernatural claim, because a deity would be a supernatural being. This correspondent looks upon such a thing as natural: it is not.
That aside, it seems your discussion turned defensive and therefore no longer a discussion.
I stated I agreed with much of your work, but my "problem" was just dismissing things and not allowing the exploration of them. Placing a personal bias on something, or allowing your personal views to dominate the subject does not seem to me to be conducive to proper investigation.
Randi comments: My mind boggles at such a presumption. Surely, putting up the JREF million-dollar prize should be evidence that we welcome, seek, encourage, and even insist upon evidence; we are ever ready to be shown, something that is rare enough…
I made no implications regarding your views, I made no mockery of your personal views relating to the existence of God, and I made no attempts to invent attitudes or opinions for you. Yet you seem to be doing the very thing to me that you accuse me of doing, and thus, not allowing for discussion. And honest discussion was my intention.
I thank you for your time, and I apologize if I somehow offended you in any way. That was not my intent.
Save me the homilies.
---
LLOYD'S REBUTTAL
At www.peterblloyd.org/essays/sentientcutlery.htm you'll find a response – of sorts – to recent SWIFT items dealing with the Sarfatti gang. It makes amusing reading, as you'll see. It's not worth my spending much time on, but one item should provide readers with the stretch that these people are willing to make to prove me unreasonable. See www.randi.org/jr/2006-10/100627good.html, where I commented:
Dan, I sense here an implication that psychics actually have something going for them besides tricks and subterfuge... That, I cannot accept.
Mr. Lloyd is shocked by this statement. He asks:
Cannot accept? Even if laboratory data establish it as real?
What Mr. Lloyd failed to sense – even with his vast understanding of mystical forces – is that in the three paragraphs immediately preceding this comment, reader Dan Thompson had described Lloyd's claims as, "simply ludicrous," "completely nonsensical," and "ridiculous," and Mr. Lloyd himself as "someone with a clear lack of a grasp on reality." I was being facetious, not factual, you see…
As for the lab data establishing the reality of psi claims, I'm still waiting. Note that I wrote, "establishing," not "hinting at," "suggesting," or "promoting." If it had ever been established, as so many new scientific and technological discoveries have been, and continue to be, we'd now have an entirely new and revolutionary view of the real world, and we don't…
---
IN CONCLUSION…
As if we needed verification of the scientific illiteracy of this generation, I direct you to tinyurl.com/yhjyew, where you'll see a French-language edition of the "Millionaire" TV show which offers the contestant four choices in response to the question: "Which of these is in orbit around the Earth: the Moon, the Sun, Mars, or Venus?"

Okay, so the contestant is poorly informed, but it's when he consults the studio audience for their help, that the dismal truth is made even more evident. I thank reader Michael Howe for destroying my day with this depressing news…

---
---
©2001-2006 James Randi Educational Foundation
Typos? Format Problems? Please contact the
Webmaster