Table of Contents:
Mr. Randi is taking a well deserved break this week,
and he asked me to organize the commentary for him.
He'll be back with his regularly-scheduled words of wisdom soon.
-Jeff Wagg
---
THE AMAZING MEETING 4 IS FINISHED
The months of planning, hours of traveling, and days of stimulating conversation, lectures and magic are over. With everyone back home safe and sound, it's time to look back at what we just experienced...and share our experiences with those who couldn't join us. I've asked some of the folks who attended this years TAM to tell us in their own words what TAM meant to them.
---
TAM 4 INTERVIEWS
David Federlein is perhaps better known as "fowlsound" on the JREF forums (forums.randi.org). He's also a musician, audio engineer, and correspondent for Skepticality (www.skepticality.com). Dave was able to sit down with many of this year's speakers and give interviews that will be heard in future episodes of Skepticality's podcast. From Dave: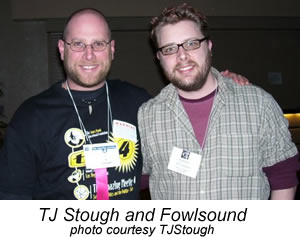 When I heard that Derek and Swoopy wouldn't be able to make it to TAM4, I immediately offered my assistance as a sound engineer. Now, I'm no correspondent, so the interviews were a bit intimidating, but I was happy to get material for Skepticality to use in their show. I'm a huge fan of theirs, and this isn't something they should have missed out on. The kind of memories gathered at TAM are priceless. From grabbing Adam Savage's butt, to asking Penn if it was tricky to rock a rhyme (to which he was very helpful in clarifying that it was indeed tricky to rock a rhyme on time) I was in a blur of excitement and awe.
I was amazed at how friendly everyone was. I had no problem talking with the rock stars of skepticism. I only wish I had time to interview more people. In particular though, Bob Carroll and the Mythbusters were very gracious and fun to talk to. Be sure to tune in to Skepticality over the next couple of weeks to hear the interviews. They were very fun to do, and I think they came out great despite my lack of experience as a correspondent. I would like to humbly thank everyone who was kind enough to let me bother them for 5 or 10 minutes for an interview.
I can't wait for the next Amazing Meeting...
---
A SKEPCHICK'S PERSPECTIVE
Rebecca Watson is a writer and skeptical activist living in Boston, MA. Her articles and essays have appeared online and in newspapers and magazines across the United States. In 2005, she founded Skepchicks, Intl. (www.skepchick.org) to promote critical thinking among women, and in 2006, she plans to take over the world. Rebecca reports:
So what did you do last weekend? If you had any sense (and some extraneous time and cash to spare), you were living it up with me at The Amaz!ng Meeting 4, held in the capital city of critical thinking, that bastion of rationality, Las Vegas.
For those of you who didn't attend, I'll give you a brief overview of what you missed. First of all, there were some lectures. I suppose that's why most people paid the admission, and they got their money's worth. Returning speakers from TAM3 Christopher Hitchens and Michael Shermer got things off to a great start. Murray Gell-Mann told entertaining stories about the past 9 or 10 presidents (I'm exaggerating, but not by much), Stanley Krippner spoke eloquently about the life or death importance of critical thinking concerning the AIDS pandemic, and perennial TAM favorite Penn Jillette shared his opinions on the importance of utilizing a reserved and obsequious approach to countering pseudoscience. Speaking of censorship, ACLU President Nadine Strossen made a splash discussing the current political war on science before joining a panel of speakers for a rousing discussion of the same.
Saturday's lectures began with Richard Wiseman. I won't mention here how funny and entertaining he was, or how he once again received some of the highest praise from the attendee surveys, as it's just likely to give him a big head and then we'll never hear the end of it. Daniel Dennett delivered another well-received lecture on the evolution and future of religion in our world. Carolyn Porco showed astronomy buffs the photo album of a lifetime, and Mythbusters Jamie Hyneman, Adam Savage, and Kari Byron got a fantastic reception, despite the fact that they didn't blow up a single thing.
Paul Provenza said some things that would have landed him in jail in some countries, Ellen Johnson gave a fantastic retrospective of Madeline Murray O'Hair, and Hal Bidlack discussed his personal views on theism, providing a transition into a spirited discussion on whether or not a skeptic can believe in a god. The answer was . . . well, you'll just have to buy the TAM4 DVD to find out.
What a lot of people may not realize is how much goes on once the lectures are over. Wednesday, the day before the official start of the conference, volunteers (mostly made up of posters from the JREF forum) were hard at work assembling packets and setting up for the weekend. I know because I was there, lying on the grass by the pool working on my tan (okay, I also put the little cords on the plastic name tags, which is why many of them had dried grass stuck in them). For a number of volunteers, this was their first introduction to Randi, who hung around chatting and doing random magical things, as is his nature. The lucky folks also got to meet Linda, Queen of JREF, volunteer coordinator Scott Romanowski, and speaker and lovable prude Hal Bidlack.
Speakers, magicians, scientists, and other brilliant people were easily accessible throughout the rest of the conference. Thursday night was the reception, at which Randi, Michael Shermer, Phil Plait, and plenty of other impressive names were milling around. Lunch was provided on Friday and Saturday, giving attendees the chance to sit with the speakers who were forced to wait in line for the buffet just like everyone else.
I was very happy to notice that at the conference there were a ton of very vocal, visible skeptical women (and they weren't just there because they were tricked into going by their significant others). About 30% of the attendees were female, up 20% from TAM3; a number of them were there on scholarship from sales of the Skepchick calendar. Speaking of skepchicks (my favorite subject), Friday night was the now infamous Skepchick Pajama Party. I'm happy to report that despite a small information leak concerning the location of the party, faithful Skepchick Security Guards kept out the gawkers. TAM special guests Karen Russell, Julia Sweeney, and Julia's little Skepchicklet were all in attendance along with other brilliant women.
Saturday night was the annual Forum Party. Keynote speaker Murray Gell-Mann looked quite happy with his well-heeled (pun) company, Richard Wiseman made me laugh very hard, and Phil Plait bogarted most of the truffles. There was so much delicious chocolate from around the world that I almost feel ashamed that I didn't gain 10 pounds before I left. And I left, by the way, at around 1 am when the party was still raging. Also, I was wearing UK skeptic Sid Rodrigues' Chuck Taylors. Sid, if you're reading this, I need my pink high heels back. Thanks.
Sunday, after the incredible paper presentations (including super stuff from CSICOP's Ben Radford and the JREF forum's own Robert Lancaster), talented geologists Ray "Slick" Beiersdorfer and Evelyn "Kitten" Mervine (you think I'm making those nicknames up but I'm not) led five carloads of skeptics on a tour through Red Rocks Canyon. I was lucky enough to sit in the backseat of a car between Phil "The Bad Astronomer" Plait and Ray "Hot Fudge Sundae" Hyman (okay, I made up that last one but I swear it's appropriate).
Other extracurricular activities included multiple group trips to see JREF supporters Penn & Teller at the Rio, a forum-sponsored poker tournament, and a trip to the Hoover Dam on Monday for skeptics who just couldn't get enough of each other.
The moral is that The Amaz!ng Meeting 4 gave over 700 people the opportunity of a lifetime -- to not only sit back and listen to some of the most brilliant minds of our time, but to interact and bond with them as well. When was the last time you shared a drink with a Nobel Laureate? Stay tuned for TAM5.
Oh, and for those of you who want to know more, check out the next issue of Skepchick Magazine at www.skepchick.org on February 15 for a more in-depth look at TAM4, the biggest skeptical event of the year.
While the JREF had to edit this piece for content, Rebecca's report illustrates that this years TAM really was a celebration in addition to a learning experience. It's the balance of education and fun that makes The Amazing Meeting something special.
---
SCHOLARSHIPS HELP 40 ATTEND TAM
Paul C. Anagnostopoulos took charge of the scholarship fund, and through his efforts many people were able to attend TAM. In fact, this year he was so successful that not a single applicant was denied a scholarship. Not bad for a community of notoriously independent spirits. Says Paul:
Much to my pleasure, I had the privilege of administering the TAM scholarship fund for TAM4 in January 2006. The purpose of the fund is to provide scholarships to cover the registration fees of people who could otherwise attend TAM, but would be prevented from doing so by the financial burden of the registration fee. Applicants were accepted on a first-come, first-served basis. The scholarship fund was the brainchild of JREF forum members Girl 6 and UnrepentantSinner, established for a previous TAM.
From July through December 2005, I watched in surprise as 20 people made generous donations to the fund. This included three people whose donations ran into four figures. By the end of the year, we had collected $8,500, which allowed us to help 34 attendees with their registration fees.
Five more people were referred to Skepchicks, International, who kindly covered their registrations. The response exceeded my wildest dreams when I opened the fund in July 2005.
The TAM4 attendees helped by the scholarship fund and Skepchicks included 19 women and 20 men. There was a filmographer, a writer, a retired couple, and two teachers. Approximately 18 of the people were students, many in the sciences. I'm especially pleased that 16 of the attendees were JREF forum members.
I had the opportunity to stand up in front of the crowd of 800 TAM attendees, announce the results of the scholarship fund, and read the names of the generous donors. I was also tickled to accept a plaque from James Randi for my small effort.
Paul is modest about his effort, but it has turned into something important for our community. Coming soon, the fund will be formalized with its own account and the ability to accept donations year round. Stay tuned to this commentary for more details.
---
A FIRST-TIMER REFLECTS
This attendee would prefer to remain anonymous, but she should know that she made TAM a more enjoyable experience for everyone she encountered. One of the most surprising things about TAM is just how nice everyone is. "Sally's" Story:
As a long time poster on the JREF forums, I was a little anxious on meeting everyone. While I often enjoyed conversing online, I was a bit apprehensive - what if no one liked me? Or they were all a bunch of axe-wielding maniacs?
When I talked to Jeff Wagg, the webmaster of the JREF, about my concerns, he assured me that they were groundless. He even went so far as to offer to pick me up from the airport, so that the first face i saw in Vegas would be a friendly one.
Upon my arrival at the Las Vegas airport, Jeff was there with a JREF sign, and a large smile. He promptly escorted me to the hotel, and helped me check in. After the hotel staff dispatched of my bags, Jeff conveyed me to a large group of some of the friendliest, smartest, funniest people I have ever met.
I have never had such a good time! No pick up lines consisting of karma or zodiac signs. No offers of 'Rescue Remedy' to help me with my nerves, although the American beer could very well be considered homeopathic. It was so refreshing to be surrounded by like minded people, with whom I could socialize and converse, without having to worry about what "woo" I would offend.
Aside from serving as a valuable educational resource, the JREF also functions as a hub for like minded individuals. In short, it's more than an organization, it's a community and one I'm proud to be a part of
---
WHAT'S NEXT?
As the buzz from TAM dies down (I heard a sigh of relief from some of you), more plans are in the works. There's an Amaz!ng Adventure cruise planned to brave the waters of the Bermuda Triangle over the labor day weekend, and an exploratory committee has been formed to look at the possibility of a European TAM in England. Also, much to our delight, unofficial "mini TAMs" are popping up all over the United States. Your inquiries, comments and suggestions are always welcome at jeff@randi.org.
Jeff Wagg