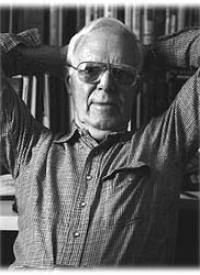 Martin Gardner has died. I have dreaded to type those words, and Martin would not have wanted to know that I'm so devastated at what I knew – day to day – had to happen very soon. I'm glad to report that his passing was painless and quick. That man was one of my giants, a very long-time friend of some 50 years or so. He was a delight, a very bright spot in my firmament, one to whom I could always turn to with a question or an idea, with any strange notion I could invent, and with any complaint or comment I could come up with.
I never had an angry word with Martin. Never. It was all laughs and smiles, all the best of everything.
Forgive me for writing this without any editing. It's just as it occurs to me.
I can't quite picture my world without him, and just yesterday I printed up a new set of mailing labels for him, plus stationery, which didn't get mailed. For the last few years I supplied him with that small favor, assuring him that he should notify me when he ran out, but he never did, because he thought it was too much trouble for me. Only when I received a letter from him last week that was hand-addressed, did I know that it was time for another shipment to Oklahoma.
He was such a good man, a productive and useful member of our society, and I can anticipate the international reaction to his passing. His books – so many of them – remain to remind us of his contributions to us all. His last one was dedicated to me, and I am just so proud of that fact, so very proud…
It will take a while, but Martin would want me to get on with my life, so I will.
It's tough…