It's been a busy week for JREF founder James Randi as he's traveled across the country and back. Last weekend, Randi traveled to Los Angeles, where he was awarded a Lifetime Achievement Fellowship from the Academy of Magical Arts. The AMA is the most highly regarded social order for magicians and conjurers in the world, and they call L.A.'s famous Magic Castle home.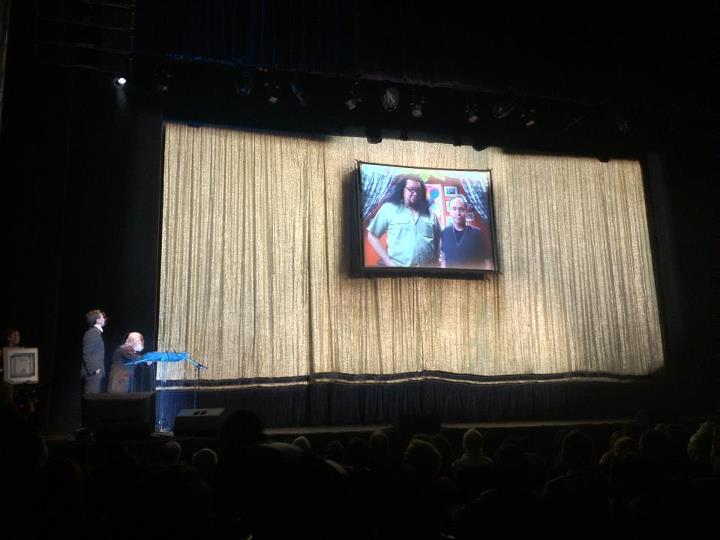 Penn & Teller appear via video to praise Randi's achievements at the AMA Awards.
Randi was personally awarded this high honor from his peers by AMA president Neil Patrick Harris "in recognition of a career devoted to virtually every facet of conjuring." In his fiery acceptance speech, Randi called on his fellow magicians to help pursue the mission of the James Randi Educational Foundation and put a stop to those who would use conjuring tricks to fake paranormal abilities and swindle the public.
On Monday, April 2nd, Randi attended Metropolitan State College of Denver's Pseudoscience Fair, organized by the Auraria Campus Atheists. The fair filled Metro State's St. Cajetan building with several interactive exhibits that educated students and visitors about the unscientific nature of AIDS denialism, homeopathy, "chem trails", and speaking to the dead, among many other topics. Randi had the honor of closing the fair with a talk about his life as a skeptic. He closed the evening by wowing the audience with some inexplicable acts of mentalism.

Randi performs an act of mentalism at Metro State's Pseudoscience Fair.
Thanks to both the AMA and the Auraria Campus Atheists for being such gracious hosts this week. And keep checking in with Randi.org for more updates from the road.
Brian Thompson is the field coordinator for the James Randi Educational Foundation.