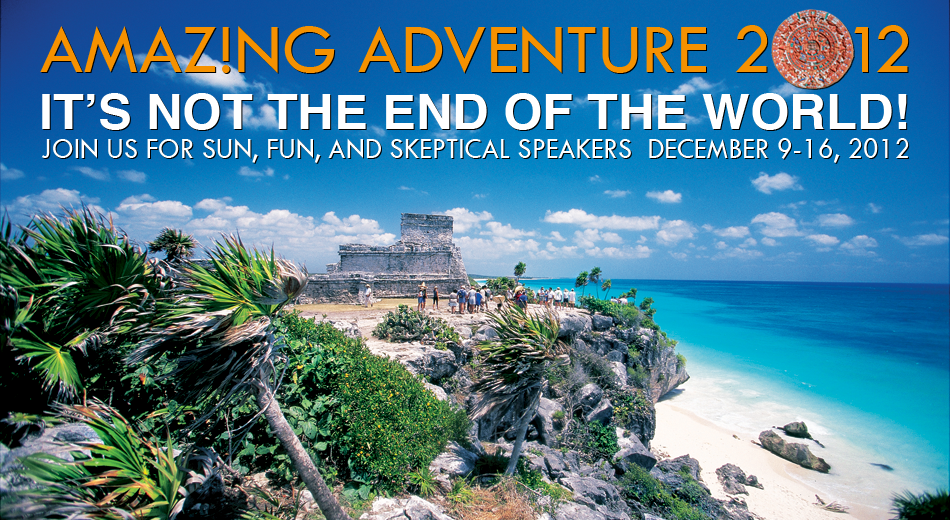 Join James Randi for a TAM-at-Sea!

This December, the JREF and a team of paranormal investigators and other skeptical experts will explore 2012 doomsday prophecies and other skeptical topics on board a seven-day cruise to the Mayan Riviera.
We'll set sail from Tampa, Florida to the heart of Mayan civilization, with stops in the Rotan Bay Islands, Honduras; Belize City, Belize; Costa Maya, Mexico; and Cozumel, Mexico. Between guided tours and talks about prophecies of impending doom and other skeptical topics, you'll have ample time to scuba, snorkel, enjoy the beach and the jungle, and see some of the most beautiful Mayan ruins.
But the best part is, you'll be spending the week with Randi and scores of other seafaring skeptics like you, including exciting speakers like paranormal investigator and cryptozoology expert Benjamin Radford, skeptical historian, philosopher and poet Jennifer Michael Hecht, JREF president D.J. Grothe, Consequence host and JREF outreach coordinator Brian Thompson, and fringe group investigator and JREF director of communications Carrie Poppy.
Space is limited, so get your tickets now!