James Randi's and D.J. Grothe's whirlwind European tour over the coming ten days includes major events in Spain, Italy, and Germany. They began the week at Neuromagic 2012, the second magic and neuroscience conference on San Simon Island (what is referred to as "The Island of Thought") in Vigo, Spain.
They are joined by Sleights of Mind authors, the neuroscientists Susana Martínez-Conde and Stephen Macknik, Scientific American's Mariette Di Christina, as well as other magicians, including Apollo Robbins and his talented wife Ava Do, Spain's Miguel Angel Gea and Kiko Pasteur, along with several other leading neuroscientists, including Beatrice de Gelder (Tilberg University and Harvard Medical School), Flip Phillips (Skidmore), Jed Elison (Cal Tech), magician-neuroscientist Amir Raz (McGill University), and Luis Martinez, among other presenters.
Randi gave a talk titled "Secrets from Inside My Feverish Brain," while Grothe presented on the question "Does neuroscience really have anything to teach magicians?" Randi also participated in a large public lecture and performance focused on the intersection of brain science and legerdemain, and why people should think critically about how easily the brain allows us to be deceived by cognitive illusions. Neuromagic 2012 is sponsored by the government of Galicia, Spain, through the Foundation of San Simon and its Island of Thought program.
Beginning later this week, Randi and Grothe will be making stops in several cities in Europe for lectures and meetings with local and national skeptics groups and university audiences, culminating in their appearances at the the 6th World Skeptics Congress in Berlin, Germany May 18th-20th, where Randi will present the keynote address.
We are particularly excited that Randi's May 16th lecture in Milan will be broadcast live via satellite to thirty five other theater locations throughout the country of Italy.
This will be Randi's fourth international speaking tour in just over a year and a half. Last fall he did a nine city tour of Canada, and last spring he did a four city tour of Norway. Before that, he did a multi-city speaking tour of Scandinavia and the Baltics, the Netherlands and Iceland. Randi loves reaching out to the worldwide skeptical community like this, connecting both with enthusiastic local skeptics and with the general public about the mission of the James Randi Educational Foundation.
This tour's dates are below.

This tour's dates are below. Make sure to keep an eye on Randi.org and the JREF's Facebook and Twitter pages (along with Randi's Facebook page) for updates during the tour, including photos, blog posts, and videos.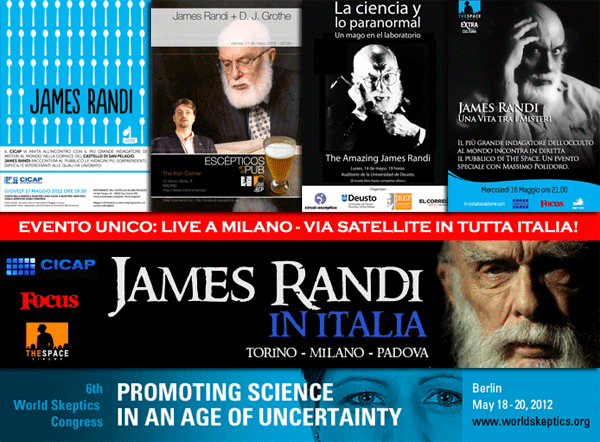 Madrid, Spain - Friday, May 11

Skeptics in the Pub (Escépticos en el Pub) with James Randi and D. J. Grothe
Hosted by the ARP-SAPC (Sociedad para el Avance del Pensamiento Crítico)

8:00 PM
The Irish Corner
Calle de Arturo Soria, 6
Madrid, Spain

More information can be found here »

Bilbao, Spain* - Monday, May 14th

James Randi - Science and the Paranormal: A Magician in the Laboratory (La Ciencia y lo Paranormal: un Mago en el Laboratorio)
Hosted by the Skeptic's Circle (Círculo Escéptico) and the El Correo newspaper

7:00 PM
University of Deusto
Avenida de las Universidades, 24
Bilbao, Spain

More information can be found here »
* This event will also be streamed online

Turin, Italy - Tuesday, May 15th

James Randi interviewed on stage by Massimo Polidoro
Hosted by CICAP (Comitato Italiano per il Controllo delle Affermazioni sul Paranormale) and the Magic Circle of Friends (Circolo Amici della Magia)

8:45 PM
Sala Convegni ATC
Corso Dante, 14
Turin, Italy

More information can be found here »


Milan, Italy* - Wednesday, May 16

James Randi: A Life Among the Mysteries
Hosted by CICAP (Comitato Italiano per il Controllo delle Affermazioni sul Paranormale), The Space Cinema, and Focus magazine

9 PM
The Space Cinema Odeon
Via Santa Radegonda, 8
Milan, Italy

More information can be found here »
* This event will be broadcast live to 35 Space Cinema theaters throughout Italy. Live broadcast locations can be found here »


Padua, Italy - Thursday, May 17

Dinner meeting with James Randi
Hosted by CICAP (Comitato Italiano per il Controllo delle Affermazioni sul Paranormale)

7:30 PM
Ristorante del Castello di San Pelagio
Via San Pelagius, 34
Padua, Italy

More informaiton can be found here »

Berlin, Germany - Friday, May 18 through Sunday, May 20

6th World Skeptics Congress
Hosted by the Committee for Skeptical Inquiry (CSI), the GWUP (Gesellschaft zur wissenschaftlichen Untersuchung von Parawissenschaften), and the European Council of Skeptical Organisations (ECSO)

Hotel Crowne Plaza
Berlin, Germany

More information can be found here »
(The JREF is especially grateful to Luis Garcia Castro and Luis Gamez for their local coordination of the events in Madrid and Bilbao, and to Massimo Polidoro for his coordination of Randi's stops in Turin, Milan and Padua.)